Home
Ceramic Waterstone
Greeting
We originally started as a "natural whetstone" company. We have been specializing in whetstone for 50 years now. During that time, we have continued relentless research on artificial whetstone; we have a variety of our own brands of products.
Our whetstone provides the pro finish to everyone from a professional chef to a housewife who never used a whetstone.
It is versatile whetstone applicable on both western and Japanese knives. It works great for cutting on Sashimi.
When Japanese food is receiving such attention oversea lately, we expect our whetstone is utilized in many Japanese and Sushi bars and other restaurants in and out of Japan.
I would like to introduce three types of whetstones:
Rough grinding, ideal for fixing nicked edge
Medium grinding, for better sharpness
Fine grinding, for the professional finish
We are proud of the quality in each type of our whetstone.
We wish you try it yourself once to find out the superior performance.
Tsuyoshi Saito, Representative Director
---
Correct way to grind a knife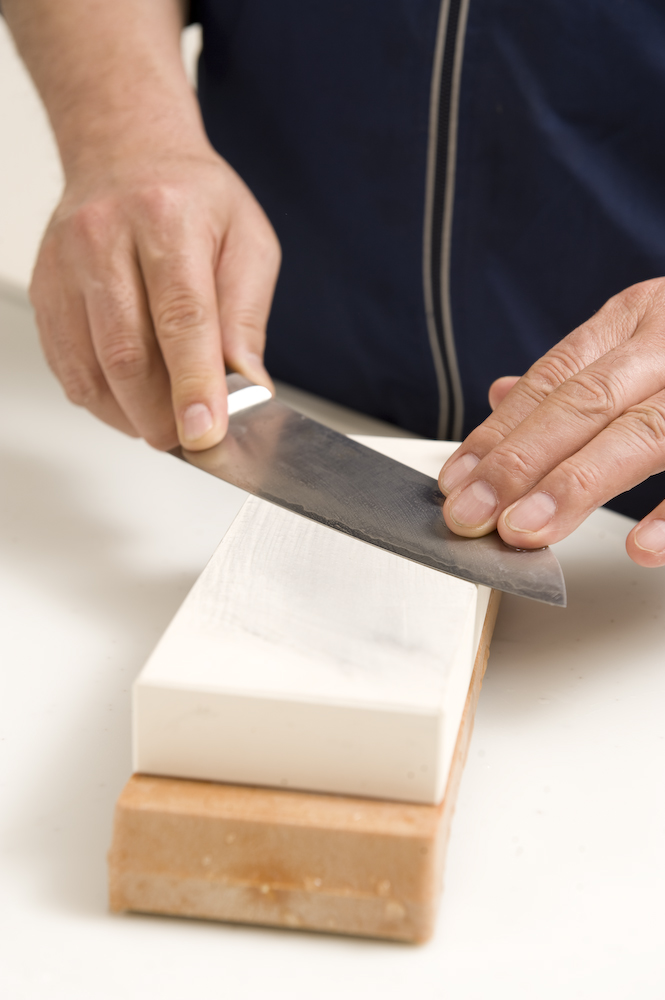 Even the most expensive whetstone will not provide finest finish if not used correctly.
Every knife has different angle on the cutting edge when grinding.
In general, followings are the angles of a whetstone and the knife edge:
Plane
25~35°
Chisel
30°
Razor
10° or less
Kitchen knife
15~20°
Small knife
20~35°
Engraving knife
20°
Scalpel
12°
Source: "Kyoto Ten-nen Toishi No Miryoku"
(The Fascination of Kyoto's Natural Whetstone)
* May differ in each whetstone, but normally soak in water for 5 to 10 minutes before use.
Also use plenty of water whilst in use.
With reference to above, grind in the ratio of 7 front and 3 back to get the best result.
Sustain the angle between the whetstone and blade, and push grind and pull grind evenly without applying too much pressure.
The secret in lasting cut performance is the maintenance.
After each use, make sure to wipe the knife to dry completely.
For plane and chisel, coating with a special natural oil called "Tsubaki oil" from rusting.
For kitchen knives, do not forget to wipe dry after washing with neutral detergent.
Store the whetstone in a place to avoid direct sun light after each use.
Popular ceramic kitchen knives may be grinded with our "Sigma Power Select II" rough grind #240, medium grind #1000 or medium grind #300.
Our whetstone is highly praised in the industry as an epochal product.
Please try it yourself once. We proudly recommend it.